The 4thEdition of the popular OAC Todra Topo has now been published and is available on our store.
Obtaining information about the routes at Todra has always been notoriously difficult... so first of all it's important not to expect anything like the kind of accurate detail that you may be used to for your local crag! Routes here have been put up over some 40 years by people from all over the world, and in many cases first ascents were not accurately recorded. To make matters worse, much information has been lost in translation from the first ascentionist's native tongue, into Arabic, Berber, back into French or English... you get the picture. The result is a variety of source documents, all describing the same things with different names.
ORIGINAL TOPOS (Various)
Hassan Mouhajir has done lots of work collating this information, and for many years his hand-drawn topos (see photo below) were the guidebook to Todra - usually sold to visitors on arrival in the Gorge for a hefty 25 Euros or more. The topos were updated each year, and copies are still available... indeed they may still end up being sold to you if you hang around the Hotel Mansour long enough!
French climber Guy Abert has also been pivotal in the development and recording of routes in the Gorge, particularly those in the upper grades. He produced a number of topos which can still be found online, and whilst they are now rather out of date they perhaps provide more correct information in some cases.

The Aventures Verticales Topo (2020)
The local guides company, Aventures Verticales, recently produced a printed topo to the Gorge, which is available from their shop in the village. It is comprehensive and up-to-date, but does not feature any background information nor route names. As far as we know it is not available for sale outside of Morocco.
THE OAC TODRA TOPO 4th Edition (2021)
This modern full-colour guidebook is the only published guide to the rock climbs in the Todra Gorge, describing 466 routes across more than 30 sectors. The OAC Todra Topo has more than enough to keep most people occupied for several years, and features useful background information and maps to get you out of Marrakech and down to Tinghir. It is now available to purchase online right here, or you can read more on the OAC website here.
The New Todra Topo is available for sale HERE!
Even if you've never rock climbed before then you can enjoy scaling Todra's vertical limestone walls with a professional guide.
We recommend www.climbmorocco.com, who are fully trained in single- and multi-pitch climbing and can provide all the necessary equipment. For more info, please visit their website: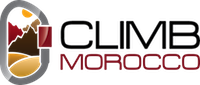 The local guiding company, based in the village beneath the Gorge, also offer supervised climbing and equipment hire. Visit their shop, or online at:
More information about climbing in the Todra Gorge is available at:
http://todraclimbing.blogspot.co.uk/
For climbers looking for trad, then also be sure to check out Climb-Tafraout, where you'll find one of the most exciting "Trad Climbing Meccas" this side of the Atlantic!