The New Todra Topo is available for sale HERE!
Even if you've never rock climbed before then you can enjoy scaling Todra's vertical limestone walls with a professional guide.
We recommend www.climbmorocco.com, who are fully trained in single- and multi-pitch climbing and can provide all the necessary equipment. For more info, please visit their website: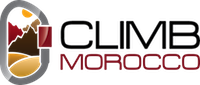 The local guiding company, based in the village beneath the Gorge, also offer supervised climbing and equipment hire. Visit their shop, or online at:
More information about climbing in the Todra Gorge is available at:
http://todraclimbing.blogspot.co.uk/
For climbers looking for trad, then also be sure to check out Climb-Tafraout, where you'll find one of the most exciting "Trad Climbing Meccas" this side of the Atlantic!