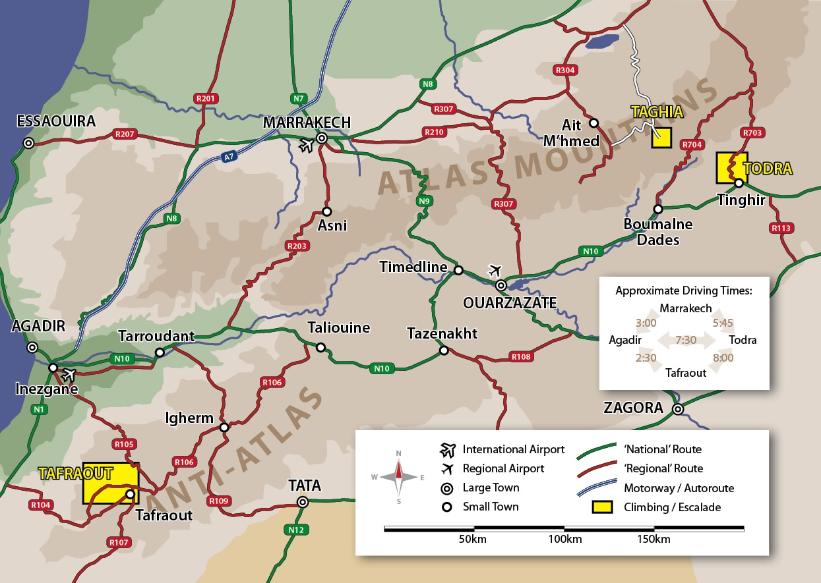 The Todra Gorge is located on the south-west side of Morocco's High Atlas mountains, close to the town of Tinghir (or Tinerhir). It is most easily accessed from Marrakech via the Tichka Pass (N9), but can also be reached from Agadir, Tafraout, and the country's southwest via Tazenakht and the N10.
Flights to Marrakech are easy to arrange, as many low-cost and national airlines offer frequent services to Marrakech Menara Airport, every day of the week throughout the year. From here it is possible to travel by bus to Tinghir (Tinerhir), for which the following links will be of use:
Marrakech
If you need to stay over in Marrakech at the start or end of your trip then there are hundreds of riads, guest houses and hotels to suit every budget, though picking one out can be rather daunting. If you don't plan in advance then you can be sure that hotel touts will provide a solution almost immediately upon your arrival in the city - a fact that can be helpful or annoying depending on your point of view. Our top tips for a smooth journey through the city are as follows:
Be polite and friendly, but make sure you agree a price in advance for any service that you are purchasing.
Try to avoid driving inside of the ring road. If possible, arrange to pick your car up (or drop it off) at the airport a day earlier / later, and travel between the city centre and the airport by bus or taxi.
Don't carry valuables around with you. Pick-pockets are known to operate in the Place Jma el Fna and other touristy areas of Marrakech.
If you don't want something, just say no... preferably in Arabic ("Lah").
Use Google Maps! Work out where you need to be, and how you're going to get there. Despite your optimism, asking directions, wandering aimlessly, and relying on luck doesn't usually work well in Marrakech.

For great value accommodation, perfect for an overnight stop, check out the Chems Hotel Marrakech. It's just 10 minutes walk from the Place Jma el Fna, 10 minutes drive from the airport, with private parking, air conditioned rooms, swimming pool, restaurant and bar.
Tinghir
At some point you'll end up in the bustling town of Tinghir (Tinerhir), located 15km outside of the Todra Gorge. From here it's easy to get a taxi up into the gorge, and there's also ample accommodation opportunities. Tinghir is the best place to stock up on any supplies that you might need, as it has several reasonable supermarkets and a popular Souq (market) for fresh produce.
BY CAR
Renting a car is not essential for climbing in the Todra Gorge, though it can make logistics simpler and provide a 'lock-up' for your gear whilst climbing. All major car hire companies have desks at Marrakech and Agadir airports, though booking online in advance is recommended. Cheaper options are available downtown, but often the savings are not worth the extra difficulties and expenses incurred in a visit to the centre of Marrakech (unless that's very much part of your holiday plan). The drive from Marrakech to Tinghir takes approximately 5 hours 45 minutes via the infamous Tichka Pass - a twisting mountain road that is busy with lorries, and sometimes closed due to bad weather in the winter months. If there's lots of snow in the Atlas then check with locals in Marrakech to try to find out more info on the state of the road.
More information about driving and car hire in Morocco can be found on the Climb-Tafraout pages at www.climb-tafraout.com
The New Todra Topo is available for sale HERE!
Even if you've never rock climbed before then you can enjoy scaling Todra's vertical limestone walls with a professional guide.
We recommend www.climbmorocco.com, who are fully trained in single- and multi-pitch climbing and can provide all the necessary equipment. For more info, please visit their website: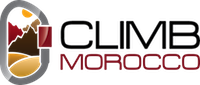 The local guiding company, based in the village beneath the Gorge, also offer supervised climbing and equipment hire. Visit their shop, or online at:
More information about climbing in the Todra Gorge is available at:
http://todraclimbing.blogspot.co.uk/
For climbers looking for trad, then also be sure to check out Climb-Tafraout, where you'll find one of the most exciting "Trad Climbing Meccas" this side of the Atlantic!