ROCK CLIMBING IN THE TODRA GORGE
Morocco's Todra Gorge is one of the country's premier climbing destinations; where you'll find a fascinating blend of adventure, sport, and culture. The gorge is located on the south-western edge of the Atlas Mountains, about 6 hours by car from Marrakech, just outside of the town of Tinghir (or Tinerhir).
The climbing here is predominantly well-bolted sport climbing, but unlike a typical Mediterranean sport venue, Todra has a distinctly adventurous feel to it. These pages have been set up as an online resource for anyone visiting the region to climb. Please get in touch if you need any further information, or leave a message below:
The 3rdEdition Todra Topo is now available HERE!
Even if you've never rock climbed before then you can enjoy scaling Todra's vertical limestone walls with a professional guide.
We recommend www.climbmorocco.com, who are fully trained in single- and multi-pitch climbing and can provide all the necessary equipment. For more info, please visit their website: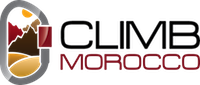 The local guiding company, based in the village beneath the Gorge, also offer supervised climbing and equipment hire. Visit their shop, or online at:
More information about climbing in the Todra Gorge is available at:
http://todraclimbing.blogspot.co.uk/
For climbers looking for trad, then also be sure to check out Climb-Tafraout, where you'll find one of the most exciting "Trad Climbing Meccas" this side of the Atlantic!